So you have made the exciting decision to build a fibreglass pool at your home, but how do you know which fibreglass pool shell is best for you and your home? Below we outline some key considerations for selecting the ideal pool to enhance your backyard living experience.
SPACE
The most important factor in choosing a pool shell is the space you have available. Generally people will choose the biggest pool possible without it being dysfunctional, however you need to keep in mind the surrounding space. If you like to entertain for example, you should choose a slightly smaller pool shell to ensure you leave ample space for your entertaining area. Perhaps you want to install a firepit or an outdoor kitchen, or you want to create a luscious green landscape for the perfect family oasis… This should all be considered before you select your pool shell, so you can plan for your dream backyard, instead of installing the pool and having to work around it.
The depth requirements are also important. If you plan on having pool parties where kids will be diving into the pool, ensure there is enough depth for safety.
Another consideration with depth is council rules. The general rule for a standard installation is that the minimum depth of the pool shell (at the shallow end) is the distance required between the pool edge and existing dwellings. There are solutions to minimise the impact of the pool being installed close to a dwelling if you find yourself limited with space, but this can often increase the cost of the installation. You can read more on this here.
PRICE
Of course price is important when building any new pool, and usually the smaller the pool, the cheaper. However, it is important that you do not select a particular pool shell due to the price. Just because you can afford the biggest pool shell in the range, doesn't mean it is best for you. Make sure you consider space requirements and lifestyle requirements before deciding on the best value fibreglass pool shell for you and your family.
Also, when comparing pool shells between pool builders, be sure to compare like-for-like. You can read an article here on what to look for in a pool quote to ensure you are making an informed decision.
LIFESTYLE
Pool shells are all designed in different sizes and shapes to allow for different individual preferences. You may want to consider if your pool will be for lazing around, sipping summer drinks and relaxing or will you opt for a tranquil setting with a fountain? Do you plan on having kid's pool parties, swimming laps or enjoying a massage from the jets? This will help you determine where the steps are positioned, how large you want the swimming space, the optimal shape and depth of the swimming pool and whether you require a sitting bench or not.
OUR RANGE- PROS & CONS
Below are some of our most popular pool shells in our range and some of the pros and cons of each.
PALAZZO- The all rounder
The Palazzo is our most popular pool shell for our pool builds in the South East Suburbs of Melbourne. At 7m x 3.5m, it suits the average South East family block perfectly, such as Wantirna, Rowville, Berwick or Oakleigh.
It is the perfect all-rounder family pool, providing plenty of room for the whole family to swim, as well as an extended bench seat that runs along one side of the pool for mum and dad to sit and supervise. This full-length bench seat also provides the perfect location for jets should you want to enhance your relaxing experience further with a massage. There is also corner entry so to maximise the swimming and sitting space. Aesthetically, the contemporary geometric design suits almost any outdoor area.
Should you like the advantage of the corner entry and extended bench seat but would like a little extra space, the Valentina pool shell is also available with an extra 1m in length and an extra 0.5m in width.
You can see the Palazzo and the Valentina fully landscaped in our Indoor Pool Display Centre in Cranbourne West. Contact us here to make an appointment to see them today.
PARADISO- the narrow block solution
The Paradiso pool shell is perfect for narrow spaces which are often perfectly suited to pool builds in Bayside suburbs such as Brighton and Cheltenham with longer blocks that are narrow. At 2.15m the Paradiso has the smallest width available in our range. This chic geometric shell is designed for relaxing rather than swimming laps, as the extended entry steps are positioned at the end of the pool. The Paradiso, designed for relaxation, is also perfect for installing water features and fountains as there is no extended bench seating.
Should you need a little extra length you can opt for the same design with an extra 1m in length by selecting the Sentosa Pool Shell. The Istana and Elysian are also available in the same design but the width is increased to 3.3m and have lengths of 6.2m and 8.3m respectively.
GRANDEUR- The lap swimmer's dream
The Grandeur Pool Shell is the perfect solution for genuine swimmers. Pools without bench space provide more room for swimming, and the side entry doesn't intrude on the pool space, providing a generous area for recreation and exercise including lap swimming. This pool shell is a little larger than your average swimming pool so they are often installed in regions like the Mornington Peninsula and the far South East of Melbourne with larger blocks such as suburbs like Kilsyth, Bayswater, Dromana and Red Hill.
Should you have the space, you can also opt for the Regal Pool Shell in the same style, but at a larger 9.5m x 4.4m. A slightly smaller option is available in the Imperial Pool Shell, measuring at 7m x 4m.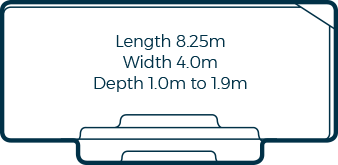 CASTELLO- The kid's pool party oasis
The Castello Pool Shell is one of the deepest pools we range with the deepest end measuring in at 1.92m, making this the ultimate kids pool for diving and jumping. A rectangular pool such as this boasts the most square footage for swimming, and the side entry doesn't intrude on the recreation area. With extended seating also available along the entire length of the pool, and space for jets, this is the perfect solution for all generations of the family.
If you like the sound of the width, depth and features of this model but would like a little more length, you can choose the Amalfi Pool Shell at 9m length, or a little less for the humble backyard with the Bellino at 6.5m length.

LATINA- Petite Perfection
The Latina Pool Shell is the ultimate "tiny pool", squeezing into the smallest of spaces with a maximum length of only 4.5m and a width of 3.5m. These pools are perfect for newer estates with limited length available in the backyard such as Cranbourne West, Sandhurst and Botanic Ridge.
With ample seating and positioning for jets, this is the ultimate relaxing pool, and the unique square shape can transform any backyard into a geometric, modern wonderland.
If you like the Latina but it is slightly too wide you can opt for the Alto Pool Shell measuring in at 4.5m x 2.75m or for a little extra you can select the Avellino at 6m x 4m.
For a full list of our fibreglass pool shells available please click here.
As you can see there are a lot of considerations to be made when purchasing a new pool shell, but you need to decide what is best for your block as well as your lifestyle. If you would like some advice from one of our expert pool builders, please contact us here for a free site visit today. Alternatively, if you would like to visit our Melbourne Pool Showroom to see the pool shells fully landscaped, please arrange an appointment today here.